Hunger in America, and Where to Find Help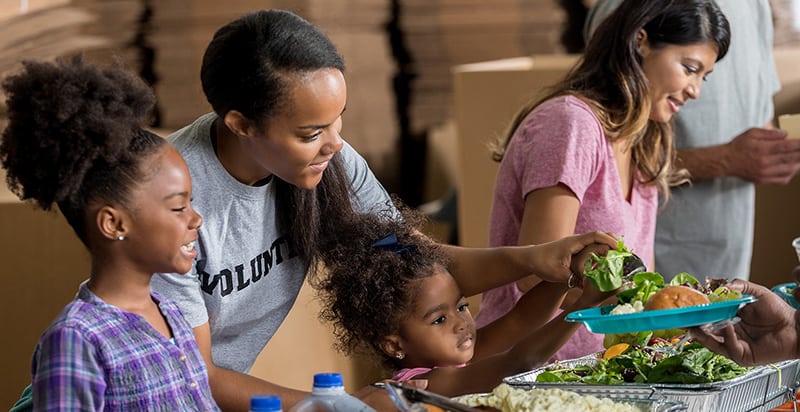 Every day, millions of Americans face hunger and struggle to put food on the table for their families. Many believe those struggling are in the situation due to poverty, but that's simply not the case. Unemployment, affordable housing, health problems, and geographical location are all factors that contribute to hunger. According to the U.S Department of Agriculture (USDA), more than 38 million Americans, including almost 12 million children, are food insecure. Food insecurity is the lack of consistent access to enough food for an active, healthy life. Households typically fall into one of two categories. Low Food Security is when a diet lacks quality, variety, and nutrition. Very Low Food Security refers to households that lack the financial resources to provide an adequate amount of food for a healthy diet. This can be a concern for individuals recently released from prison or jail, as many basic needs may need to be restored or supported.
We spoke with John H., a reentry manager who has helped individuals successfully transition back to the community for 20+ years. If you find yourself struggling with food insecurity, John recommends you start with the resources below.
Find a Food Bank
Most communities have food banks that are open to the public. These non-profit organizations are staffed with professionals and volunteers that understand the importance of fulfilling the needs for quality, sustaining food. Feeding America, a nationwide network of food banks and programs, helps millions of people find food and affordable grocery items. Visit our Find Resources page to find a food bank in your area.
Contact a Faith-Based Organization
Faith-based organizations are great resources to assist with food needs. Most have food banks or offer meal assistance and other charitable services to support individuals in need through affiliations with local soup kitchens, food pantries, and food drives. Additionally, they may be able to connect you to long-term programs in your community.
Check Eligibility for Government Programs
The Supplemental Nutrition Assistance Program (SNAP) is a federal program that provides nutrition benefits to low-income individuals and families to purchase food. Funded by the USDA, SNAP provides access to nutritious food and resources for long-term success. To find out if you are eligible for benefits, visit the USDA website.
Summary
Food insecurity affects millions of people, and the challenge of being recently released from jail or prison can put an individual in a position where they struggle fulfilling basic needs. Know there are options to receive help and take advantage of opportunities for assistance in your area, if only for a brief period of time. To learn more about what a healthy diet looks like, visit the Healthy Eating Plate.
Share This Story, Choose Your Platform!